Overview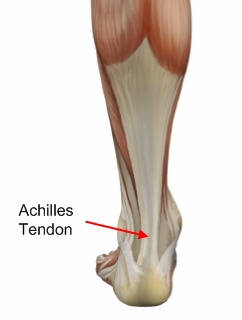 Achilles tendinitis is an overuse injury common in many sports that require lots of running and jumping. Once this condition becomes more chronic adhesions that form along the tissues and the injury becomes more of a tendinosis. Treatment for a tendinosis is much different that for a tendinitis, so it is important to recognize what stage the injury is at in order to treat it appropriately. An acute achilles tendinitis involves inflammation and would be treated with rest, ice, etc. Once the inflammation has decreased, research shows that eccentric exercises are beneficial. Once there is tendinosis, it becomes imperative to break up those adhesions with ART and prescribe appropriate stretches and exercises.
Causes
Tendinitis most often occurs when a tendon is over used. As the foot extends the Achilles tendon engages the calf muscles. The calf muscle generates force, which is transferred to the foot via this tendon. As this action repeats the tendon will endure large amounts of stress. An under-trained or inexperienced athlete is most likely to be affected by tendinitis since their body is not accustomed to the stress involved with athletics. Improper foot mechanics is another common cause of Achilles tendinitis. A properly functioning foot will distribute weight evenly across the foot. On the contrary, if the foot is experiencing improper mechanics, the weight of the body will not be evenly distributed. This can result in tendinitis, plantar fasciitis, calluses, bunions, neuromas and much more.
Symptoms
The symptoms associated with Achilles tendonitis and tendonosis include, Pain-aching, stiffness, soreness, or tenderness-within the tendon. This may occur anywhere along the tendon?s path, beginning with the tendon?s attachment directly above the heel upward to the region just below the calf muscle. Often pain appears upon arising in the morning or after periods of rest, then improves somewhat with motion but later worsens with increased activity. Tenderness, or sometimes intense pain, when the sides of the tendon are squeezed. There is less tenderness, however, when pressing directly on the back of the tendon. When the disorder progresses to degeneration, the tendon may become enlarged and may develop nodules in the area where the tissue is damaged.
Diagnosis
The diagnosis is made via discussion with your doctor and physical examination. Typically, imaging studies are not needed to make the diagnosis. However, in some cases, an ultrasound is useful in looking for evidence of degenerative changes in the tendon and to rule out tendon rupture. An MRI can be used for similar purposes, as well. Your physician will determine whether or not further studies are necessary.
Nonsurgical Treatment
In addition to stretching, using a foam roller and getting regular massage to keep the joint mobile can help prevent any problems from starting. If you start to feel inflammation in your tendon or have Achilles tendinitis once, it isn?t necessarily the end of the world. Let it rest and recover, which can sometimes take as long as four to six weeks if you waited until the pain was acute. The real problem is if Achilles tendinitis becomes an ongoing injury. If it keeps recurring, then it?s time for the perpetually injured to examine what they?re doing to cause the problem.
Surgical Treatment
Percutaneous Achilles Tendon Surgery. During this procedure the surgeon will make 3 to 4 incisions (approx. 2.5 cm long) on both sides of the Achilles tendon. Small forceps are used to free the tendon sheath (the soft tissue casing around your Achilles tendon) to make room for the surgeon to stitch/suture any tears. Skilled surgeons may perform a percutaneous achilles tendon surgery with ultrasound imaging techniques to allow for blink suturing with stab incisions made by a surgical suture needle. This procedure can be done in 3 different ways depending on the preference and experience of your surgeon. Instead of making several 2.5 cm incisions for this procedure, some surgeons will use guided imaging with an ultrasound to see the Achilles tendon tissue without having to open up your ankle. For this technique, they will use a surgical needle to repeatedly stab your Achilles tendon. These "stab incisions" will allow the surgeon to "blindly" suture your tendon without seeing the actual tissue. As another option - some surgeons will only make 1 to 3 incisions for smaller surgical implements to repair your tendon while relying on imaging ultrasound to see your damaged tissue. During either procedure the use of ultrasound imaging or endoscopic techniques requires a very skilled surgeon.
Prevention
So what are some of the things you can do to help prevent Achilles Tendinitis? Warm Up properly: A good warm up is essential in getting the body ready for any activity. A well structured warm up will prepare your heart, lungs, muscles, joints and your mind for strenuous activity. Balancing Exercises, Any activity that challenges your ability to balance, and keep your balance, will help what's called proprioception, your body's ability to know where its limbs are at any given time. Plyometric Training, Plyometric drills include jumping, skipping, bounding, and hopping type activities. These explosive types of exercises help to condition and prepare the muscles, tendons and ligaments in the lower leg and ankle joint. Footwear, Be aware of the importance of good footwear. A good pair of shoes will help to keep your ankles stable, provide adequate cushioning, and support your foot and lower leg during the running or walking motion. Cool Down properly, Just as important as warming up, a proper cool down will not only help speed recovery, but gives your body time to make the transition from exercise to rest. Rest, as most cases of Achilles tendinitis are caused by overuse, rest is probably the single biggest factor in preventing Achilles injury. Avoid over training, get plenty of rest; and prevent Achilles tendinitis.